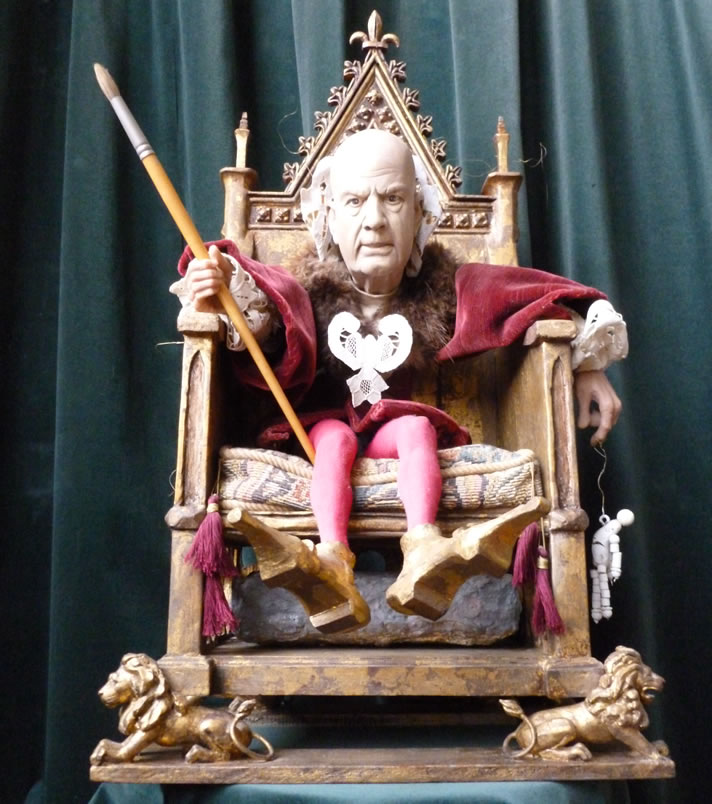 This remarkable work, created by artist David Lowrey, who studied painting under Ives Gammel at Fenway Studios in Boston, Massachusetts, is a unique artistic expression of a student-teacher relationship. Gammel, who had been a student of Boston artist William Paxton, maintained an atelier for many years in Boston to train gifted young men with artistic potential, the techniques of classical oil painting. Lowrey was one to be offered a fellowship, and studied with Gammel from 1973–1979. Lowrey describes Gammel as "very intense" and says his students shared "very deeply mixed feelings towards their teacher."
Lowrey has dressed Gammel as Richard III and placed him seated on a gilt replica of the ancient Coronation Chair found in Westminster Abbey in London. Under the chair is a carved wood representation of The Stone of Scone, used once to crown the kings of Scotland. From a finger dangles a miniature puppet, representing the innocent white corpse of an art student hanging by a thread.
This sculpture measures about 28 ½" x 17" x 13 ½" and was constructed of carved wood, fur, textile, modeling clay and hog's hair. Although primarily known as a painter, Lowrey is in private, a gifted maker of puppets. This work dates from the mid-1980s and has qualities which could make it a popular museum attraction.