Charles Allan Winter, Portrait of Elizabeth Oakes
Before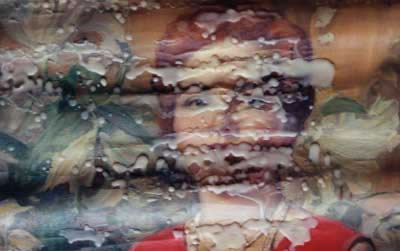 Before

After
When this portrait was brought to our studio it was rolled up tightly like one of the Dead Sea Scrolls, and the face was just a sneeze away from falling completely off the canvas. The stretcher had long since been discarded, and the canvas was unwilling to lie flat. The paint film in the area of the face was so precarious that if the painting had been picked up one more time there would have been no painting left to see.
Hot wax-resin was dripped over the lady's face to keep the paint film sticking where it belonged. Then moisture was applied to the back of the painting to soften the stiff ridges in the canvas. After several setups in our vacuum press using heat, pressure, and more wax-resin, the entire paint film was secured. The ridges in the canvas were flattened and the old canvas was backed with a new lining. The painting was finally re-stretched on a replacement stretcher and today is stronger than the day it was painted.
Our "Lady in Red" now catches the eye of nearly every visitor to our studio. The artist, Charles Allan Winter, was born in 1869 and studied at the Academy Julien with Bouguereau and Gabriel Ferrier. He kept a studio in Gloucester, Massachusetts, where the painting was found after having spent many years in a closet.
The subject of the painting, Miss Elizabeth Oakes, was identified by author Judith Curtis from a photograph of the painting in a 1928 article from the Boston Herald Newspaper. As a child Elizabeth Oakes and other neighborhood children in Gloucester were welcome visitors to "The Red Cottage" an artist compound the city during the 1920s.